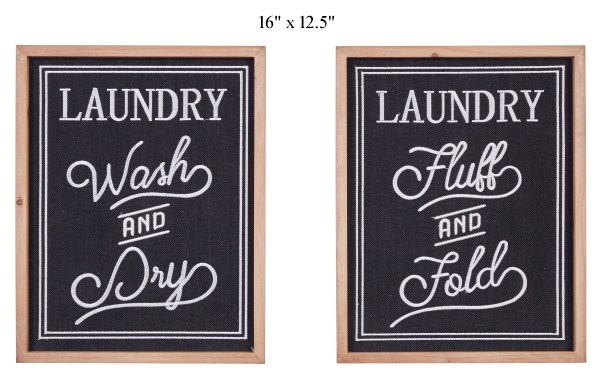 Laundry Sign - 12.5" x 16" - Set/2
Item ID: U77887
Dimensions:

Framed wood plaque with a chalkboard design - $16.00 each

Related Products
"

Featuring an antique emblem silhouette, the metal sign is made from galvanized silver iron with decorative whitewashing and rust for texture and dimension over the bold lettering, which reads "Self-service, opens 24 hours, laundry room, drop your pants here 25c per load" with decorative flourishes. This decorative sign is secured to a lightly whitewashed Chinese fir wood coat hanger, which also serves as a sturdy hook to hang on your laundry room wall or rack.

"

Metal sign with a metal chain for hanging - 3 assorted styles.

"

Wood framed faux enamel sign - 4 assorted sayings.